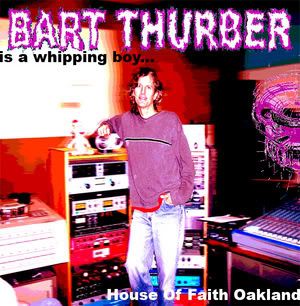 Bart Thurber is more than a man... No not an alien either. Bart is a rad guy from my hometown of Palo Alto California. Bart used to play guitar in a band called Whipping Boy. You can hear a track of theirs on The Not So Quiet On The Western Front compilation and their former Vocalist Eugene now sings for oxbow. Bart also started the House of Faith, a recording studio out of Palo Alto but now based out of Oakland. If unfamiliar with Barts work you might ask what does this guy have to do with grind and I would say that Bart has recorded Agents of Satan, Anal Mucus, Kalmex and The Riff Merchants, Capitalist Casualties, ETO, Elephant Man, Exhumed, Exitwound, Fifteen, Fallingoverdrunk,Funeral Shock, Gasp, Go Like This, Gob, Godstomper, Melt Banana, Jenny Piccolo, Immortal Fate, Indian Summer, J Church, Locust, Noothgrush, Oxbow, Sheepsqueeze, Slobber, Spazz, No Less, Plutocracy, The Working Stiffs, Vulgar Pidgeons, Voetsek, Whipping Boy, Word Salad, What Happens Next?, Neurosis, and Spaceboy. That was the short version too.
Full name: Bart (the recording guy).
How old are you and where are you from?
Currently 49, and I'm originally from Michigan. Grew up in Palo Alto Ca, though.
Do you have any good memories from the Whipping Boy days?
Lots of good ones. My favorite memory though was my first show I did with them. At the old AFES Hall in Mtn View back in about 1987- It was Halloween night, and Eugene hollowed out a large pumpkin, placed it over his head, and sang a bunch of songs wearing it. It looked incredible! A picture of him wearing it ended up on the inner sleeve of the third Whipping Boy LP.
Did you have any preferences as to what you played through?
I was always a Fender man; I had a couple of old beat up small Fender amps daisy- chained together.
Growing up in Palo Alto you were a legend, what was Palo Alto like when you first arrived?
Like a small, quiet college town with a lot of smart, interesting people. Tons of bands around in the 70's and we'd do anything to see them play. Including scaling walls and climbing through windows! The city had live rock concerts in the main plaza downtown on Satuday nights in 1972 that usually degenerated into full-scale riots afterwards. Being 15 at the time I thought that was incredible!
Did you know the folks at AML?
Only too well! Having practiced there in various bands from 1982 to 1988. Bobby RIP…
How was East Palo Alto in the 80's and early 90's?
EPA was always the place to buy alcohol when I was a kid. When I lived there in the mid- 90's we were on the NE side of town, quieter with lots of families that had lived there for a long time. I got some looks when I first arrived, but everybody got used to me quick, and then it was a very cool place.
How did you learn to record?
I was always the guy with the tape recorder- back in the beginning it was a TEAC 3340 1/4" 4 track- I'd record every band I could get my hands on! Always trying to make it sound like the records I was listening to. And sometimes it would! After realizing that 4 tracks wasn't quite enough, I went through a short 8- track phase, then ended up where I am now: 1" 16 track, a great, punchy, and relatively inexpensive format.
What do you think are the 3 most important things you have learned about sound?
1: K.I.S.S.!!!
2: Play from your heart, not your head.
3: Keep it down when Bart's around.
Ever since digital came on the scene I have always heard allot of people prefer analog and now I am starting to hear more people switching over to digital now especially with the influx of 1 man diy home projects, how do you feel about all that?
Analog will always be King for me. I just don't like recording on digital, it's got an edge to it that I don't enjoy. Give me warm and punchy!
When did you open the house of faith and who did you first start recording there?
Started in 1989 with OXBOW at the house we were all living at in PA, then I moved over to the warehouse in Palo Alto in 1990. After 6 months it really took off and I was working day and night for 4 years.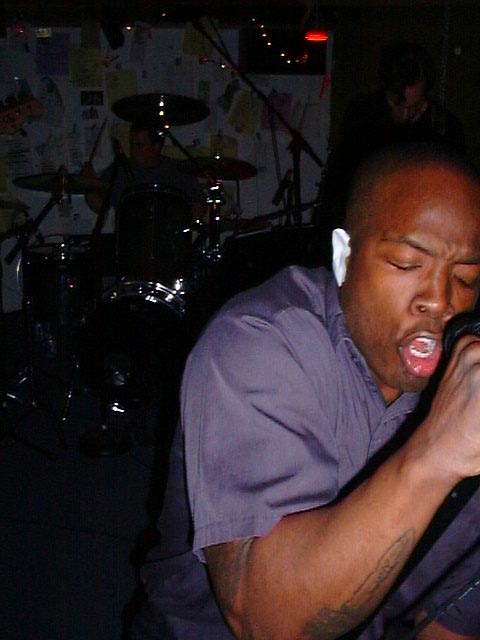 *Eugene from Oxbow shown here above, picture from www.nineup.com
How do you think bands describe working with you?
Hopefully positively!
Why did the first H.O.F. close and What was it like throwing the House of Faith closing show?
A little old lady owned the property that the building was on, and after we were there for 4 years she decided to sell out. She actually visited the studio unannounced one day, and sat down on the couch surrounded by graphic graffiti all over the walls- luckily she was a bit blind and never said anything about it! On the last day we had a big, end of the studio party, where we took a great picture of all the bands that showed up for it. After that everybody pretty much demolished the place, which didn't really matter because they were going to tear it down anyway. A bunch of people set up and jammed; one guy even smashed his guitar into the walls at full volume, THAT sounded incredible! The whole time I was looking over my shoulder for the police, but when they finally showed up all they wanted to know was if anybody had some hot sauce for their chips. (true story).
What have been some of the more memorable sessions for you?
Probably the ones were people actually got into fistfights during the recording session, it's happened more than once.
What do you remember scaring you the most in your life?
When my country re-elected Bush.
What has made you the most pleased?
Looking at the picture of the last day at the old House Of Faith, all those bands! And all those great people. Another thrill is hearing a song I've recorded on the radio.
Who is the craziest band you have dealt with so far?
Gotta be the Meatshits.
What is the most grueling session to date?
See above!
What is your favorite show you have attended?
The Bart Benefit that they threw for me down in San Jose in 1993- 10 bands got together, pooled their equipment and played for me. Unfortunately, I had to do sound for the first part of it 'cause the sound guy was at traffic school!
What pisses you off most about the world?
Pollution, the tearing down of cool old buildings, and the lack of respect for young bands.
What is the official Bart fan site?
Ain't one!
What kind of bike do you ride?
Battered and bashed, yet beloved
Do you have a tattoo?
No
Favorite records at home right now? T
That's a tough one. Hearing so much music every day, I generally end up playing acoustic guitar to relax when I'm home.
What is the coolest thing you know?
How cool and inspiring my wife Liz is!
I also found an interesting piece written about Bart which serves as a good introduction to him.
http://www.paloaltoonline.com/weekly/morgue/news/1994_Aug_31.PEOPLE31.html